Spring time is definitely my favourite time to visit Europe. The weather is usually pretty good, the days are long and the flowers are in bloom, which makes it a great time for a trip to Europe. I usually spend three to four weeks in Europe during the spring and subdivide the trip into three parts: I spent the first portion in Southern Europe where it is already warmer, the second part in Central Europe, and the third portion in Northern or Eastern Europe because these areas take longer to warm up.
After a grueling winter in Canada I was definitely ready for spring time in Europe. On Friday, May 16, 2014 I arrived in Brussels to start my 16 day adventure on the old continent. As I had a 6 hour layover, I decided to visit the Belgian capital with the help of the friendly ladies at the information desk who explained to me how easy it would be to take the train downtown.
So I stashed my luggage at the airport and took the train downtown, which would only be two stops to Brussels' Central Station. From there I walked just a few minutes to the famous "Groote Markt" or "Grande Place", a UNESCO World Heritage Site and the city's beautiful main square with its Gothic Town Hall and other historic buildings. I also visited the Galeries Saint Hubert, the world's first shopping mall that was opened in 1847 where you can find Belgian chocolates and all sorts of other exquisite merchandise.
During my brief visit to Brussels I also visited the Cathedral of St. Michael and St. Gudula whose current Gothic version was built between 1226 AD and 1519. An earlier church had been located here since the 9th century. From here I walked to the extensive Royal Park, the city's largest park, which was created between 1776 and 1783 and is home to many monuments, a cast iron music kiosk and the Theatre Royal du Parc. Right next to it is the Royal Palace of Brussels which is still the official palace of the King and Queen of the Belgians. Unfortunately all the gates to the palace were locked, so there was no way of visiting this historic structure.
Continuing my speedy explorations of Brussels, I took in the impressive Place Royale and the sweeping view over the city from the Jardin du Mont des Arts. Then I strolled westwards on the Rue de la Régence and continued past the 15th century Our Blessed Lady of Sablon Church. Not long after I arrived at the imposing Palace of Justice whose exterior was currently being restored. The most important law court in all of Belgium, this landmark was built between 1886 and 1883 and was the largest building constructed in the 19th century. This structure has an impressive domed entrance area with sweeping staircases, columns, statues and mosaics. Just north of the Palace of Justice there is a breathtaking elevated view over downtown Brussels. The entire area is full of restaurants and great shopping opportunities.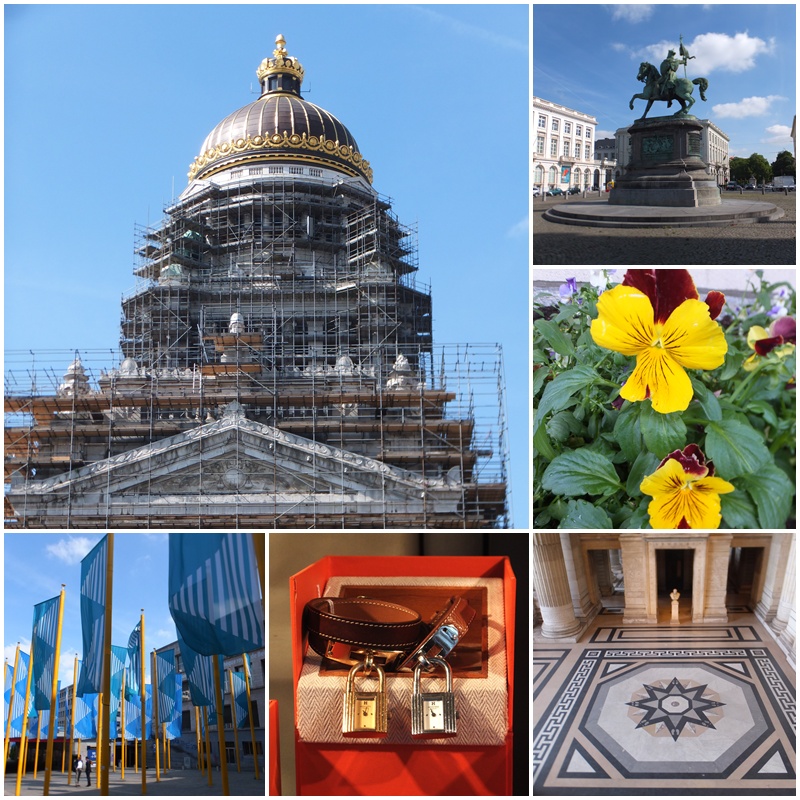 After my short layover in Brussels it was back on the plane, and by about 4:30 pm I had landed in Venice, my destination for the next couple of days. After consulting the tourist information I took the airport bus to Piazzale Roma (the final spot where cars can go in Venice) before switching over to the public boat on route 5.2. Finally, by about 6:30 pm I had arrived in the Cannaregio neighbourhood where I had booked a room in a guest house for the next couple of nights. Unfortunately, when I rang the bell nobody answered and I was unable to contact the accommodation providers by telephone as well.
Not knowing what to do and fearing I would have to spend the night sleeping under a bridge, I approached Marco, a complete stranger who was filling up the gas tank for his boat at a gas station by the edge of the water. He was extremely kind and tried his best to help me find accommodation for the next couple of nights.
And sure enough, by about 7:30, after several phone calls, he had secured a room for me with Wilma, one of his friends' mothers who regularly rents rooms to travelers. He took me to Wilma's place just 5 minutes away, and I officially had a place to stay for the next 2 nights, thanks to Marco and Wilma's kindness. Wilma even invited me to join her and her friend Patrizia in a local Mexican restaurant. We had a very nice dinner together. Despite a dicey start, I now knew that I was going to have a great stay in Venice.