Ontario is a beautiful place in the summer. With its rolling hills, its fertile farmland and the rocks and lakes of the Canadian Shield, Ontario offers a great variety of vacation experiences that are ideal for urban dwellers like myself who are trying to get away from the hectic rat race of the city, which in this case happens to be Toronto.
There are many attractive destinations within a reasonably short two to three hours of driving from Toronto. Many of them offer a combination of small to mid-size towns with more urban amenities that are embedded in a great natural environment that allows for a wide selection of outdoor pursuits, from hiking, biking, fishing and boating to golfing, horseback riding and much more.
This time I was planning to explore a collection of Ontario destinations very close to Toronto: the Clarington area encompasses communities such as Bowmanville, Courtice, Newcastle and Orono. The distance between downtown Toronto and Bowmanville, for example, is just a little more than 60 km or a bit less than 40 miles, making this area an easy getaway region from Canada's largest city. I made my first stop in the quaint village of Millbrook whose beginnings date back to the early 19th century.
One of Clarington's finest cultural destinations is the 4th Line Theatre, just outside the tiny village of Millbrook, a bit more than an hour east of Toronto. Originally the Winslow Farm since the mid 1800s, this cattle farm was converted by founding artistic director Robert Winslow into a barnyard theatre in 1992.
I had already visited the 4th Line Theatre in 2010 when I viewed a production called "The Right Road to Pontypool". This piece had more than 30 actors, some of whom made an entrance into this barnyard theatre on a horse-drawn wagon from the farmer's fields. For me, the country setting of the 4th Line Theatre provides for a truly atmospheric and unique theatre experience. On a warm summer night, an outdoor theatre experience that ends with a gorgeous country sunset is always a special experience.
Robert explained that for more than 20 years now, the 4th Line Theatre has created unique outdoor theatre productions with a focus on local Canadian content. On August 2, 2012, I received a backstage tour to see all the unique spaces of this theatre, such as dressing rooms that have been converted from the original cow pens, and a former hay loft that now holds thousands of props that have been used in the past and will be used again for future theatre productions.
I chatted with the set designer who explained that he actually reuses old sets from other theatre productions and recycles the materials rather than sending them into the landfill. I also had a conversation with Janette Winslow who works with the theatre as an actor, choreographer and producer, and she told me about the theatre's mentoring program and community involvement.
Last but not least, I got to see a production of "Queen Marie", a play about Marie Dressler, a highly unusual character and an Oscar-winning actress who was active in the early 1900s and was born not far away in Cobourg. Lead actress Shelley Simester gave a fire-cracker performance and captivated the audience with her energetic and charismatic persona. The 4th Line Theatre is first-class entertaining theatre under the skies and delivers a one-of-a-kind cultural experience.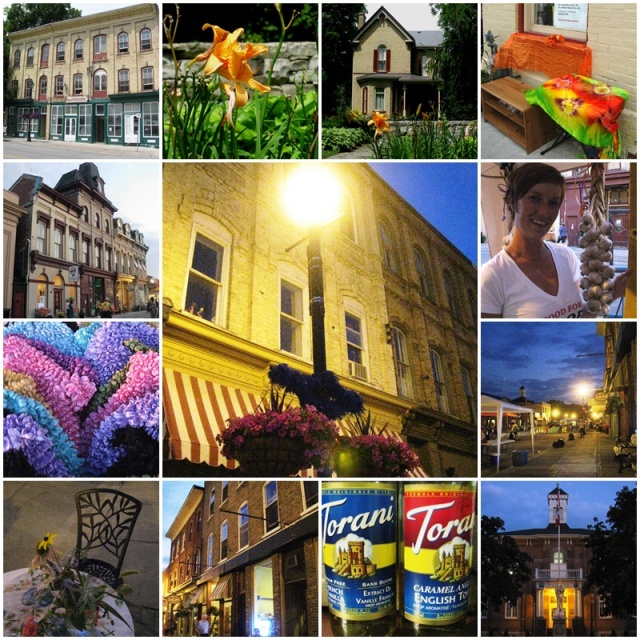 Having enjoyed some great theatrical exposure to a uniquely Canadian topic, I began my drive through the rolling farmland. At sunset I made another in Millbrook, took a brief walk along its main street and picked up an ice cream. I arrived fairly late at my abode for the day: Our Valley View Bed and Breakfast provides luxurious country accommodations in any of their two bedrooms: the Canadiana room is equipped with a Queen-size bed, a 40-inch TV and an ensuite 2-person whirlpool tub, all styled with a uniquely Canadian touch.
I was located in the Grandview Room, which provides an outstanding view of the Enniskillen Valley just outside the B&B. Also equipped with a Queen-sized bed, TV and a soaker bubble tub, this B&B provided great accommodation for the night. Hosts Petra Schwirtz and Martin Zinser welcomed me warmly and we enjoyed a great conversation until past midnight. But I had to get to bed and rest up for another busy day tomorrow and more explorations in Clarington.
For more information and to plan your trip please visit Clarington Tourism.