Many times before, Facebook has put me in contact with really interesting people, and that is exactly how Bimini Colt and I connected. Early this year, I noticed in her postings that she had been quite ill with asthma and that she was planning to go to Poland to get special medical treatment at the famous Wieliczka Salt Mine near Krakow. She even used crowd-funding to make her dream come true!
I kept reading her updates and witnessed that her pulmonary condition was improving amazingly. Medical travel is a rapidly growing segment of the tourism industry, and Bimini has now travelled twice, one time to Switzerland and one time to Poland, to get serious health issues addressed. Have a look at her story of miraculous healing that she experienced thanks to the medical treatments at the Wieliczka Salt Mine.
1. Please tell us a bit about yourself. You had an interesting childhood, growing up on a sailboat; even your first name was inspired by an island.
I seemed destined even before birth to travel and explore as i was actually conceived on Bimini island, and though we did have a house in Montreal (and I was born in Montreal) we spent the vast majority of our time on the sailboat, on the beautiful Caribbean seas. This had its advantages, but unfortunately, we believe it may have contributed to the lung problems, since I had virtually no exposure to outside germs or even allergens. It was me, my mother and father on the open seas. So when it came time to go to school and interact with the public, it was hard on the immune system!
2. As a child you also travelled extensively through Latin America and learned to speak English, French and Spanish. Please tell us about these childhood experiences.
When I was around 8 years old, not long after my sister was born, my parents decided to move us to Costa Rica, and until I started the new school semester, we had a lot of time to travel to the neighbouring countries. So because of that, I learned Spanish, as well as French from my mother and English from my father. During that time, I also had a chance to witness the poverty of the local people, which helped me to develop the compassionate side of me that has remained an integral part of my personality to this day.
3. Then you moved back to Canada. Please tell us about your adolescence and early adulthood.
There wasn't much interesting during those years. Like most adolescents , my life was primarily occupied with school. However, because I was sickly (asthma, constant infections, migraines) it was a very difficult time. I spent more time with my head in my hands and gasping for breath than I did playing with kids, and pain made it difficult to concentrate. I developed a reputation as a snob because I didn't interact with the rest of the children, and as result, was a victim of many years of bullying. College was much the same. I struggled through it, my health getting worse all the time, and I was denied my diploma as I actually failed gym. This was because I'd be in too much pain from the migraines, not to mention my asthma was exercise induced. I went to university for 1 year in another province, but by that time, I was sick much too often, and i was forced to drop out after a year. After that, I went to be a live-in caregiver for my ailing grandparents. Aside from that, I drifted from 1 job to another, until I finally met my husband, who I very rapidly fell in love with and married within 8 months.
4. At age 30 you had a stroke. Please tell us what happened and how you dealt with this situation.
I had been married 4 years and my health had steadily been declining for the past 2 years prior to the stroke. On January 4 2008, I found out through medical testing that the cause of the horrific, constant migraines was actually a heart defect that I was born with, called Patent Foramen Ovale or PFO. Unfortunately, they found it a bit too late to avoid the stroke that so often comes from the defect. So on January 22 (my husband's birthday) 2008, I had a stroke which damaged the right parietal lobe of my brain. It left me completely paralysed on my left side for about 3 months. It took almost a year before I could walk with both legs without losing my balance and falling. My poor husband had to be plunged into the role of caregiver. Washing, feeding, dressing, picking me up when I fell. It was really a rough time for all involved, but with love and determination, we pulled through it together.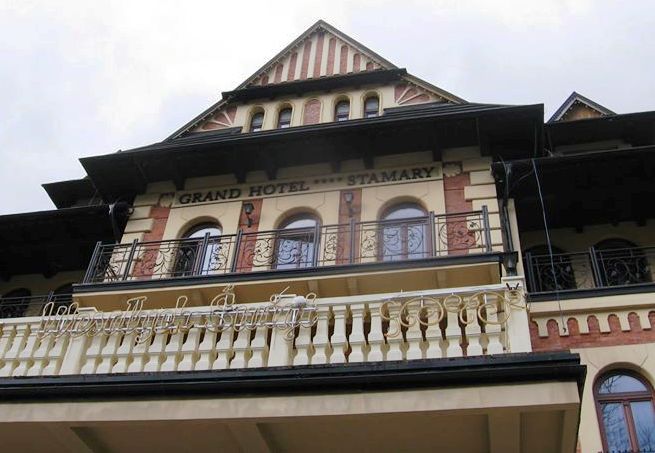 5. A few years ago you decided to become a travel agent. What motivated you to change careers?
Back at the age of about 16, I found out that I had a passion for helping people with disabilities (both physical and intellectual) so I did that as long as I could. I loved it, and have fond memories of the times spent with those people. But obviously after my stroke, with the left-sided paralysis and the residual left side weakness, that wasn't an option. In May of 2009, after months of being told by Canadian doctors that my p.f.o [the Patent Foramen Ovale heart defect] would not be fixed, I travelled to Bern, Switzerland to be operated on by a very prestigious cardiologist, a pioneer of this method, Dr Bernhard Meier. The operation was successful, and without migraines, my stroke recovery was much smoother. I thought I could conquer the world. Those were literally the words that went through my mind. Conquer the world… what better way to do that but to TRAVEL the world? And so I went to travel school.

6. Since becoming a travel agent, you have travelled to many countries. Please give us an overview of some of the interesting countries and destinations you have seen. What were some of your favourite places?
I've become a real jetsetter. Since graduating, I've been to Saint Lucia, Barbados, Jamaica, Switzerland, Dominican Republic, Mexico, Czech Republic, Poland, Slovakia, Hungary… Every single place I've been to lives on in my heart. They all have unique aspects that made me fall in love with them. But I think Switzerland, (because that's where it all started) and Poland (for very obvious reasons) are extra special to me.
7. During one of your trips you found out about the healing capacity and therapeutic pulmonary treatments of the Wieliczka Salt Mine near Krakow, Poland. Given that you have been suffering from breathing problems for a long time, this was of great interest to you. What was it that specifically attracted you to this treatment program?
It was during a 2 week trek through Europe that I first visited Poland. I was enchanted by the old world charms of Krakow, and then my life changed … After an extremely painful visit to Auschwitz Birkenau, the infamous concentration camp from German occupied Poland, we switched gears completely and went to visit an absolutely magical place. A whole other world 135 meters underground… the famous Wieliczka salt mines. I was totally blown away by the beauty, history, legends, spirituality, but most of all by the fact that all of a sudden I could breathe! Our guide mentioned just in passing "Oh, by the way , there is also a treatment center underground for people with lung diseases". From that moment, my life revolved around planning, praying and hoping that I would one day get there for a treatment. I researched subterranotherapy (the effects of a specific microclimate of underground salt chambers on the human body) and the benefits of salt for people with lung issues. I found that the salt mine in Wieliczka had BY FAR the most intensive and well developed program, while being under the constant care of doctors, nurses and physiotherapists.
8. How did you get your dream of going to Krakow off the ground? You used crowd-funding to help you get this treatment. How did that work?
It started when I was very ill last summer with yet another infection in my lungs, and doctors surmised that antibiotics were on the verge of not working at all anymore for me. When that happens, your chance of death increases exponentially. It really scared me. Doctors also said I needed a lung specialist, but the consultation would not be before LATE 2015! No way was I waiting that long, not when my very survival was at stake. While on Facebook in early October, I mentioned I was really getting scared for my life, and that honestly my only hope was this treatment in Poland, but I could not afford it. One very special friend pledged right then and there that they'd get me there, someway, somehow. So on October 18, 2013, a day before my birthday, I officially opened my gofundme page for crowd funding. By January 1st, 2014 I was packing my bags; and my treatment would start January 7th!
9. Please tell us about the 3-week treatment program that you took in early 2014. What kind of treatments did it encompass? Why does this ancient salt mine have such healing powers?
Well it is difficult to say with absolute certainty what it entails, because the treatments are literally tailor-made for each individual patient. But generally speaking, there are group physiotherapy exercises, which build up physical stamina as well as open up your lungs. There are breathing exercises, and chest clearing using self tapping and effective coughing. There is always a nurse and doctor available and they will administer treatments as needed in times of asthmatic crisis. For the asthmatics, there is daily measuring of the peak flow (the amount of air that you can exhale forcefully and quickly from your lungs). Numbers are a good indicator of how stable your condition is. If the readings go down significantly in a short time, doctors and nurses are quick to develop a plan of action to reverse it. Salt has been known for centuries as a great natural healer. When inhaled, it acts as nature's own anti-inflammatory, reducing irritation in the nose, and lungs.
Please continue reading Part 2 of Bimini Colt's amazing story of healing, which talks about some of the spiritual moments she experienced in Poland and the great friendships she developed with the staff at the treatment centre of the Wieliczka Salt Mine.