After nine days of excursions and many early morning departures with our Caravan tour of Costa Rica, the itinerary on February 15, 2013 was completely empty and we had a day of relaxation at the luxurious JW Marriott Guanacaste Resort & Spa. The day started with a nice breakfast and many people in our travel group relaxed by the pool (the largest pool in all of Central America) or took a swim in the Pacific Ocean just steps away. Some people also took advantage of the spa services at the resort, other fellow travelers went zip-lining (some of them over 80 years of age…). I was planning to relax around the resort in the morning, but my afternoon plans were to explore Tamarindo, a local village just up the coast.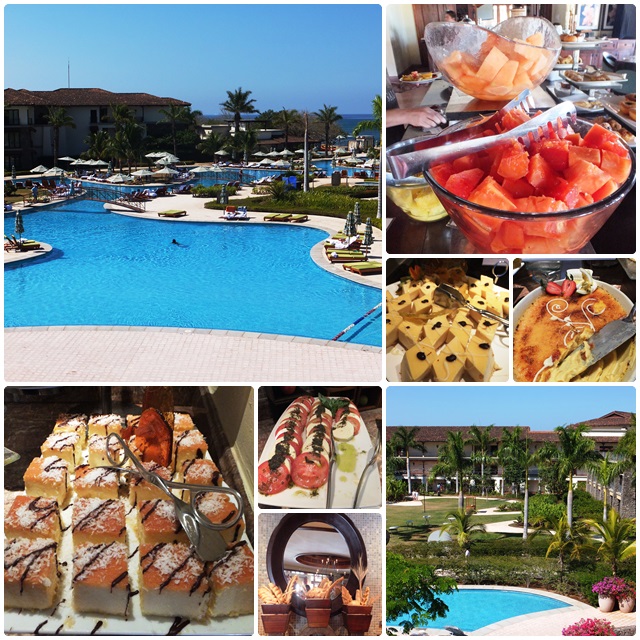 Around mid-morning I took a stroll around the resort property of the JW Marriott Guanacaste and stopped at the pool bar because I saw that several gorgeous flower arrangements had been set out on the bar. The bar tender introduced me to his colleague who was in charge of making all these floral arrangements. Two more friendly employees came out to chat with me and at the end they insisted that I take one of the flower arrangements back to my room as a gift. Last night I had already chatted with one of the hotel porters who wanted to practice his English. One thing I definitely noticed here in Costa Rica: people appear to be genuinely friendly and enjoy interacting with tourists from other countries.
The sun was beaming down from a brilliant blue sky and I relaxed for a while by the pool. After lunch I took the bus into the town of Tamarindo on Costa Rica's Pacific Coast. In recent years, Tamarindo has become an important local tourist destination and is particularly popular with surfers and travellers seeking eco-tourism adventures. It has also become quite a popular retirement destination for Americans and Canadians trying to escape the cold winter. Tamarindo has a gorgeous beach and the main street is full of shops, bars and restaurants.
The bus dropped me off on the north side of town and I strolled all the way south on Tamarindo's main street and checked out the various shops and restaurants lining the main street. I reached the end where there was a turnaround and walked out to the gorgeous sandy beach right next to the attractive Portofino Beach restaurant. Right at the edge of the beach I met two young ladies who were selling jewellery. Originally from Nicaragua, they were sisters and their jewellery was handcrafted by their families. They explained that there are very few work opportunities in Nicaragua, so they came to Costa Rica to try to make a living.
The long beach of Tamarindo is actually a nesting area for Leatherback Turtles that come here between November and April to lay their eggs. Shops in town sell all sorts of excursions, from zip-lining, scuba diving and snorkelling to horseback riding and National Park tours. Sport fishing is also extremely popular for fish such as marlin, sailfish and giant tuna. Tamarindo is a growing tourism centre on Costa Rica's Pacific Coast.
I had a little bit of extra time left in Tamarindo before taking the bus back to the resort at 5 pm. I came across an advertisement for massages at a small hotel, so I walked through to the garden where three local ladies had set up their massage tables. It was a family business: mother, daughter and a cousin were providing relaxing massages to tourists outdoors with a beautiful view of the Pacific Ocean. This outdoor massage in this tropical paradise was a real treat, and at $30 for a 45 minute treatment it was also very affordable.
By late afternoon I arrived back at the hotel and got ready for dinner. Before joining our group at the evening buffet, I walked down to the sandy beach and watched an absolutely stunning sunset over the Pacific Ocean at the JW Marriott Resort. Then I spent a pleasant evening chatting with my fellow travelers who were starting to get a bit sentimental as this was our second last night together as a group.
Our Caravan tour had almost come to an end. We had seen a bit of the capital San Jose, the Central Highlands of Costa Rica and the Poas Volcano. We also spent some time on the Caribbean coast in the Tortuguero nature reserve, explored the scenic area around the Arenal Volcano and experienced the serenity of the Pacific Coast. The past nine days had just flown by and my mind was swirling with colourful images from all around Costa Rica. This guided tour had been a great introduction to one of the world's most beautiful countries…