San Jose, Costa Rica, was the destination of my flight on February 8, 2013. But as it looked right now, there was no way I was going to make it there. As a matter of fact, a gigantic snowstorm had been forecast for the entire northeast, and Boston was supposed to receive three feet of snow. Toronto, my departure point, wasn't looking much better.
Let me tell you a bit more about my Costa Rica travel plans. Those who regularly read my articles will know that I absolutely love travelling to Spanish-speaking destinations; number one, because I love the Spanish language, and number two, because all the Spanish-speaking countries are fascinating destinations with stunning landscapes and interesting history. I had never been to Central America and Costa Rica was first on my travel bucket list for this region.
A little bit more than a year ago I had travelled to Buenos Aires, Argentina, and Montevideo, Uruguay. As an independent traveler, I rented myself a room, trekked around by bus and train and heeded the safety instructions of the locals to guard my purse and always be watchful about my surroundings. Now don't get me wrong, my trip to South America was great, but I did return home with quite a bit of paranoia, always on guard as to whether I would be pick-pocketed, mugged or worse.
So when I planned my trip to Costa Rica this time, I wasn't in the mood for constantly being on guard and I was looking for a more comfortable alternative to exploring different parts of this beautiful country that everyone was raving about. So I did a search for guided tours of Costa Rica because I figured that a organized tour would provide me with the necessary convenience and safety to explore this gorgeous country without worries.
And in my search I found one company, Caravan Tours, based out of Chicago, which offers an amazing deal for a guided tour called "Costa Rica Natural Paradise", priced from an amazingly affordable $995. The package includes 9 nights of high-quality accommodation, bus transportation, guided tours and all meals, a price that would be impossible to beat if I was trying to travel there on my own. This was going to be my first ever escorted tour, and for an independent traveler like me, it was going to be of a bit of a question as to whether I would be able to adjust to the regime of an organized tour. I was going to wait and see…
So on this very snowy February 8, 2013 I got up at 3:45 am and my husband drove me and my good friend and travel partner Gary to Pearson International Airport. On the radio along the way, we were listening to the weather reports and the news that thousands of flights were cancelled in the northeast. But, everything seemed to go smoothly and by 10 am we were all sitting in the plane, ready for takeoff.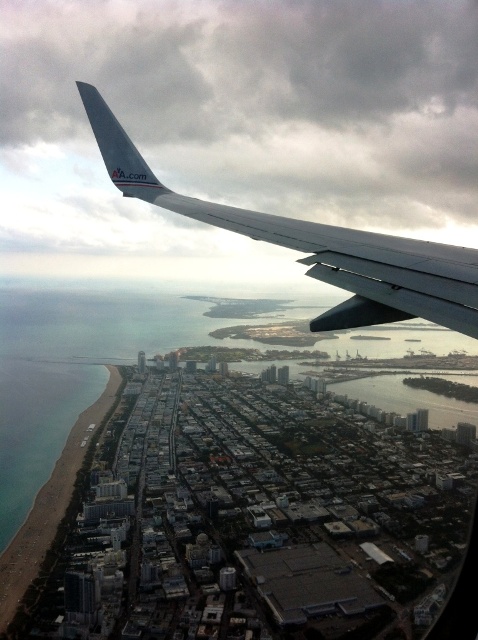 And that's where it stopped for the next four hours: we were sitting on the tarmac, waiting for deicing – no surprise given the huge backlog of planes and the continuing snowfall. I had gotten really hungry, and by 1:30 in the afternoon, I scooped up the last cheese and crackers that American Airlines had for sale in this aircraft. The flight attendant, who was actually very humorous, informed  me that planes do not carry much food these days because most people bring their own. Well, there is a lesson for next time.
By the time we arrived in Miami at 5 pm, we had missed our connection flight to San Jose. We got into a lineup to rebook at the American Airlines counter, and after a phone call, I found out that we were rebooked for the next day. We did stay in line because we needed AA's help in booking a hotel. By around 8 pm we got to the front of the line and found out that all AA-affiliated hotels in Miami were completely booked for tonight. But, in a moment of unexpected brilliance, Gary asked the customer service representative if we would be able to get into today's last flight to San Jose. After checking, the customer service representative said the plane was boarding right now, but we might get in. She printed out some boarding passes and told us to hurry from Gate 19 to Gate 50. We thank her profusely because she had done an awesome job, trying to get us onto that last plane to San José.
We ran to the Skytrain, and exited four stations later on the other side of the Miami Airport. They were just about to close the gate, but we managed to squeak into the plane and scooped up the last two seats. How lucky we were! By 11 pm we landed in San Jose, Costa Rica. We had made it! (Much unlike tens of thousands of people whose flights had been cancelled on this very day.) Of course, my suitcase was still stuck in Miami, but it was going to be delivered tomorrow.
Didn't matter, we were just happy that we had arrived safely in San Jose, and that our Costa Rican adventure was just around the corner. We took a taxi to our hotel for the next two nights, the Real Intercontinental, an elegant four-star property on the west side of Costa Rica's capital. Exhausted yet famished, we sat down for a meal in the hotel's restaurant at almost midnight and fell into our beds, all tired out from a long day of suspense as to whether we would make it to Costa Rica or not.
Thank God we were here and I couldn't wait to start our Costa Rican travel adventure.