On a gorgeous Friday morning in early September of 2013 I decided to go on a driving tour and explore some destinations close to home. Just about an hour outside of Toronto I had arrived in Keswick, a small town of about 25,000 people on Cook's Bay, which is part of Lake Simcoe. After a visit to the local Chamber of Commerce where I picked up brochures about the area, I drove on Metro Road North which took me right next to the shorelines of Lake Simcoe. This is the original "cottage country" for Torontonians, and city residents in search of a getaway could get here by taking the Toronto and York Radial Railway in the early 1900s. Today, the Orchard Beach Lakefront Bar & Grill provides a nice spot for an enjoyable lunch overlooking the shoreline, and many fancy mansions line the waterfront.

North of Keswick I turned onto Lake Drive East and started driving right next to the waterfront. At Willow Wharf Park I found a very scenic spot for a picnic, looking right out at Snake Island in Lake Simcoe. Several islands are located in this lake: Georgina Island, Snake Island, Thora Island, Strawberry and Fox Islands. Georgina Island is the largest island, can be accessed by a ferry and is the reserve of the Chippewas of Georgina Island First Nation. In the summer, Lake Simcoe is a popular destination for boaters and jet skiers, while during the winter dozens of ice fishing huts dot the frozen lake which is one of the most intensely fished lakes in all of Ontario.
Continuing my explorations of the southern shorelines of Ontario's Lake Simcoe I stopped in Jackson's Point, a waterfront community that has been part of Toronto's original cottage country for more than 100 years. Around the turn of the last century, this little town was the location of many grand homes and hotels. Today, it often bills itself as the ice fishing capital of the world. Jackson's Point has a large marina that is the center for many boaters in the area. Displaying a whimsical spirit, some of the homes in the area have elaborate bird houses or even totem poles in the front yard.
Just a few minutes east of Jacksons Point I made a stop at The Briars, a historic resort whose story has evolved over the last 170 years. From an initial land grant in 1840 whose owner named his home "The Briars", a doctor by the name of Frank Sibbald purchased the property in 1878 and this property has been in the Sibbald family ever since. A golf course was added in 1922 and the Manor House was renovated in the 1970s to provide a new focal point for the resort. Today, The Briars is a destination resort, spa and conference centre. The history and natural significance of The Briars has been recognized by the Ontario Heritage Foundation and the Arboretum at the University of Guelph.
Memories of a warmer season: during my September drive along the shorelines of Lake Simcoe I stopped at The Briars, a historic resort in Jackson's Point that offers a wide range of activities to its guests. Built in 1922, the Briars Golf Course was home of the 2013 Canadian Men's Senior Championship and is among Ontario's Top 10 Stay and Play Courses. In addition to the on-site spa and fine dining , guests can enjoy a solarium pool, whirlpool or sauna, a fitness room, games room as well as a variety of outdoor activities such as walking trails on the premises, 2 outdoor pools, 4 outdoor tennis courts, beach volleyball, croquet, bocce, badminton and free bicycle rentals. The Briars is located only 72 km north of Toronto but offers an elegant country atmosphere for a short-distance getaway.
After all this sightseeing it was definitely time for lunch so I made a stop at the Lake Simcoe Arms Pub & Restaurant, one of most popular eateries in Jackson's Point. With its authentic British pub atmosphere and a great outdoor patio, this was a great place for an outdoor meal. Their menu features many pub classics such as Bangers, Bean's 'n Mash; Olde English Fish 'n Chips, Chicken Pot Pie, Shepherds Pie, Steak & Kidney Pie, Liver & Onions and other pub favourites. The Lake Simcoe Arms also offers live entertainment on Friday evenings and Sunday afternoons.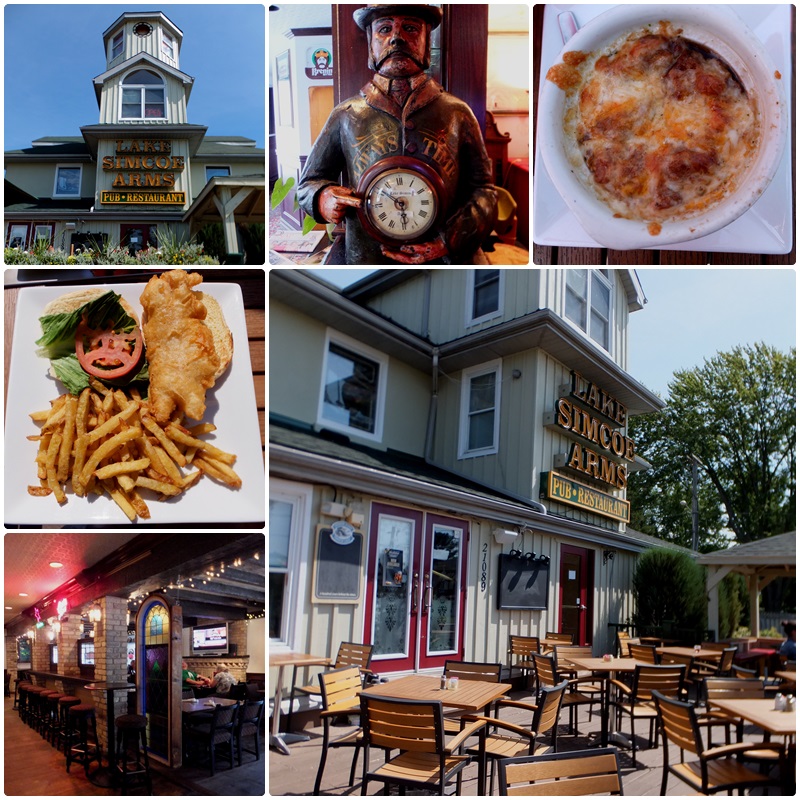 Continuing my driving tour of Georgina Township south of Ontario's Lake Simcoe, I stopped at St. George's Anglican Church in Sibbald Point. This beautiful stone church was consecrated in 1877 in the location of an earlier wooden church that was built in 1839. Inside the church is a glass window that was hand painted by daughters of Governor Lord Graves Simcoe. The altar features a guilded Celtic Cross that was already used in World War I and was originally part of the processional cross of St. Philip's Church in London in 1850. The west window of the church shows St. George, triumphantly slaying the dragon. The historic cemetery surrounding the church is the last resting place of Canadian authors Stephen Leacock and Mazo de la Roche. During the summer, the church becomes a venue for many concerts, presenting some of Ontario's finest musical talents.
My final stop during my southern Lake Simcoe driving tour was Sibbald Point Provincial Park, a popular getaway destination with 598 campsites and a 400 metre long sandy beach. Eildon Hall, the Sibbald Family Museum, provides insight into one of the early settlers in the area. The mansion portrays life in rural Ontario during the mid 19th century. Descendents of the original Sibbald family still live in the area today, and are most notably the owners of the upscale Briars Resort in Jackson's Point. Sibbald Point Provincial Park is an extremely popular nature getaway destination, particularly for residents of Toronto, as it is located only 70 km from the city.