After a couple of days in Buenos Aires, this was the day for deepening my knowledge of the Argentine capital. To do so I had planned to go bicycling in Buenos Aires again and booked another bicycle tour with Biking Buenos Aires. The day before I had already explored the Bosques de Palermo and Chinatown with Robin Gerlach, co-owner of the company. On our menu today was the grand bicycle tour of Buenos Aires that would introduce us to all the main sights of the city on two wheels.
A small group of bicycle adventurers was congregating in the morning, ready to receive our helmets, bicycles and safety instructions. We were introduced to our expert bicycle guide Rodrigo Liffourena, a true walking (and cycling) encyclopedia on all things Buenos Aires. A native Porteño, he speaks perfect English (with an Australian accent!) as well as Spanish, French, Portuguese, Japanese and Afrikaans. He also speaks Russian, Danish and Italian "so-so". Having learned Danish for only a month, he was fluently conversing with a customer from Denmark and even got compliments on his pronunciation. As a language specialist myself, I was truly impressed by Rodrigo's outstanding linguistic talents.  I realized that Rodrigo looks after his customers, regardless of the language they speak.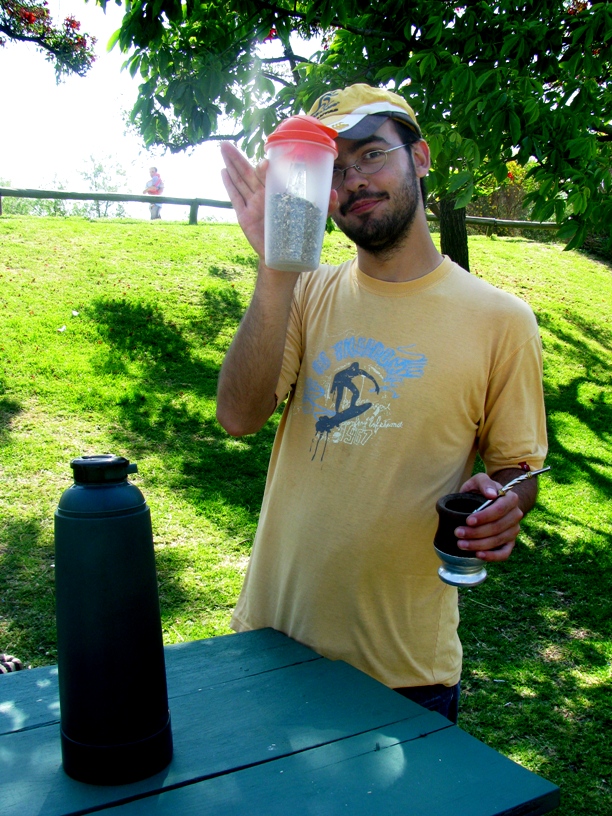 On our 8-hour Ultimate Buenos Aires bicycle tour on a gorgeous November 5, 2011, we started in the Palermo neighbourhood and cycled along the busy Avenida Libertador to the National Library where we made our first stop. Built in 1961, this Brutalist concrete building stands in the place of the former Unzué Palace where President Juan Perón and his wife Evita used to live and is the largest library in Argentina. We then cycled on to the famous La Recoleta Cemetery. The square in front of the Recoleta Cemetery holds an arts and crafts market every Saturday and is a lovely place to sit or take a stroll.  It's a lively spot, surrounded by cafes and the upscale Recoleta neighbourhood.
The Iglesia de Nuestra Senora del Pilar church stands guard outside Recoleta Cemetery, one of Buenos Aires' renowned attractions with its outstanding collection of 19th  and 20th century funerary architecture. Opened in 1822, the cemetery is laid out in a grid fashion, with wide tree-covered avenues as well as narrow streets flanked by unique marble tombstones. It holds impressive tombs of Argentine presidents and generals and the most popular grave to visit is that of Eva (Evita) Perón.
We continued our bicycle tour to the Plaza de las Naciones Unidas, where a giant steel and aluminum sculpture opens and closes its metal petals, depending on the time of day. Built in 2002, this impressive metal structure measures 23 metres in height and has a diameter of 32 metres when the petals are open. A tranquil reflecting pool provides an interesting counterpoint to this unique sculpture.
Then we cycled on to the Plaza San Martin, located in the distinguished Retiro district. Much of the architecture surrounding this square is inspired by French and Italian styles: the Palacio San Martin, the Palacio Haedo and the Circulo Militar – originally a mansion of the aristocratic Paz family and modelled after castles in the French Loire Valley. The Torre de los Ingleses (the "English people's tower", now called the Torre Monumental after the Falklands War) was a gift by the English expatriate community to the city, donated in 1916. Another famous landmark captured our attention: the Edificio Kavanagh, an Art Deco residential tower that was the tallest building in South America at some point.
Our next stop on this great two-wheeled excursion of Buenos Aires was going to be the main square of the Argentine capital: the Plaza de Mayo.