Our third day in Buffalo was a bit windy and cool, but we were off on another great adventure: an open-air bus tour with OpenAirBuffalo, a non-profit organization that runs bus tours throughout Buffalo that focus on the outstanding architectural heritage of the city. 100% of the profits from the Buffalo architecture bus tours are dedicated to architectural preservation. Our expert tour guides were Tim Tielman and Paul McDonnell, respectively the Executive Director and President of the Campaign for Greater Buffalo – true experts in architecture, urban planning and key players in Buffalo's architectural preservation movement.
We started our Whirlwind Tour of Buffalo in the Elmwood Village, one of the city's most vibrant areas, and drove a few minutes to the gigantic Richardson-Olmstead Complex (or H.H. Richardson Complex), the former "Buffalo State Asylum for the Insane", designed by groundbreaking American architect Henry Hobson Richardson with landscape design by America's most famous landscape architect Frederick Law Olmsted. After the deinstitutionalization of psychiatry, the complex was shut in the 1970s and almost fell victim to the wrecking ball until a lawsuit filed by Preservation Buffalo Niagara forced the State of New York to dedicate $100 million to its rehabilitation – a huge victory for architectural preservation. The future for this huge complex is starting to look even brighter:  just recently the Olmsted-designed park in front of the complex was restored and reopened, a boutique hotel is slated to be developed in the historic buildings and plans are also underway to create an architectural education centre at the Richardson-Olmstead Complex.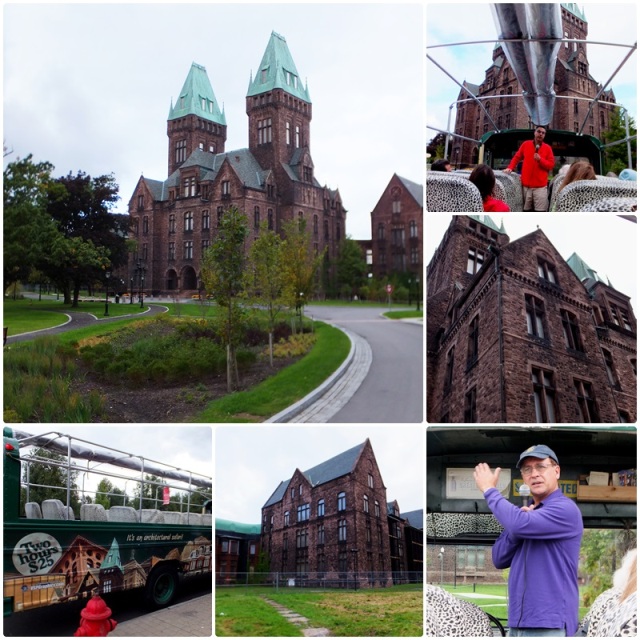 We continued our open-air bus tour of Buffalo eastwards and made a stop at Symphony Circle where we saw two significant architectural structures.  The older of the two is the First Presbyterian Church, a solid stone church that was built in the heavy Romanesque-revival style and held its first services in 1889 while the tower still took another 8 years to complete. Across the street is the Kleinhans Music Hall, home of the Buffalo Philharmonic Orchestra. This unusually shaped building was constructed between 1938 and 1940 by father-son team Eliel and Eero Saarinen. Eliel Saarinen became most famous in the United States for his 1904 design of Helsinki Central Railway Station while Eero Saarinen's most well-known work is the Gateway Arch in St. Louis
Our Open Air Buffalo bus tour now took us south through Allentown, one of Buffalo's most vibrant residential and commercial neighbourhoods. Further south we drove by the impressive Hutchinson Central Technical High School, located on South Elmwood Avenue in the West Village Historic District. This large high school was founded in 1904, designed in the Collegiate Gothic Style and has recently been renovated as part of a city-wide plan for the renovation of dozens of schools in Buffalo. We also passed by Evergreen Health Services, housed in the old Prospect Avenue Baptist Church. Around this neighbourhood we also saw examples of successful architectural infill developments from the 1980s and less successful Brutalist-style townhouses from the 1970s.
On a blustery September day we continued our Open Air Buffalo architecture bus tour into the downtown area and saw many of Buffalo's most famous architectural masterpieces. Buffalo is a true treasure trove of architecture whose iconic structures span the second half of the 19thcentury through the early 1900s and well into the 1960s and 1970s. Downtown is dominated by the Buffalo City Hall, a giant Art Deco monument that is one of the tallest and largest municipal buildings in the US.  Our bus stopped on Washington Street and allowed us to admire the Old Post Office, designed by James Knox Tyler in the Gothic Revival style, opened in 1901 and today the downtown campus of Erie Community College.  On the other side of the street we studied the Ellicott Square Building (1896), an Italian Renaissance Revival masterpiece designed by Daniel Burnham. Our experts from Open Air Buffalo contrasted that to the more leading-edge Guaranty Building (1894), designed by Louis Sullivan and Dankmar Adler.  A more recent addition to Buffalo's skyline is One M&T Plaza, completed in 1966 and conceived by Minoru Yamasaki, the architect of the World Trade Center.
On our way back uptown during our Whirlwind bus tour with Open Air Buffalo we drove along Delaware Avenue, an important north-south thoroughfare in the city. During Buffalo's heydays in the late 1800s and early 1900s, Delaware Avenue once had more millionaires per capita than any other city in America. Today this area is a protected historic district. Our final stop was at the Barton House, designed by iconic American architect Frank Lloyd Wright and built between 1903 and 1904. Created during his famous Prairie School era, this building is characterized by its horizontal lines and flat roof. Buffalo has several structures that were designed by Frank Lloyd Wright, including the renowned Darwin Martin House.
After a fascinating architectural whirlwind tour of Buffalo we were ready to explore the local Elmwood Village neighbourhood and another iconic destination in Buffalo: the historic Forest Lawn Cemetery.