As far as Toronto travel opportunities go, I absolutely love weekend getaways from the big city. As much as I enjoy life in a big metropolis, sometimes it's nice to get away from the overcrowded hustle and bustle of Canada's largest city. And based on my excursions around Ontario over the last few years I know that there are so many hidden gems within easy driving distance that are truly worthwhile to discover. So at the advice of one of my friends, I started working with the local tourism representatives to organize a travel project in Stirling, Ontario.
On December 15, 2012, a day that was supposed to have freezing rain, my travel partner Gary and I zipped off eastwards on Highway 401, and in perfectly good weather we turned off the highway near Trenton and arrived in our country destination a little less than two hours later. Obviously Stirling is within very comfortable reach for a weekend getaway from Toronto.
Around mid morning I met Elisha Purchase, the town's economic development officer who was so kind as to give me a walking tour around the town.
Elisha explained that the town has recently invested in a successful facade improvement program which has greatly increased the quality of retailers that have located in this town. We started our walking tour at West Wings, an eclectic boutique and espresso bar with a wide assortment of merchandise, from books by local authors, unique handbags from the Far East and handcrafted jewellery to fair trade coffee and organic teas. A nice cup of Earl Grey warmed me up before we headed outside on West Front Street, the town's main street. We strolled westwards and admired some of the historic Victorian residences that flank the downtown business district. Many of the stately mansions were built between the 1840s and 1890s and belonged to wealthy local merchants. On the south side of the street is another landmark: the 1927 Community Service Building, home to the Stirling Festival Theatre, a treasured performing arts institution where I was going to see a show tonight.
Then we started heading into the stores to check out some of the merchandise for sale in this town. We stopped in at Stirling Heritage Wines, a wine-making store that also provides equipment for home-based winemakers. I admired a nice-looking assortment of hand-made chocolates and truffles as well as gourmet cheeses. One of the most unusual items in the store was a hand-crafted Christmas tree, made entirely from wine corks.
We continued our stroll along the main street and popped in at Stirling General Mercantile, a historically flavoured general store with a huge assortment of sweet and fun merchandise. It's one of those places where you just wander around and take in all the colourful items on display. From vintage Coca-Cola signs to dozens of different kinds of candy to humorous greeting cards and signs, the store has everything that will delight the child in all of us. A vintage cash register also adorns the counter and Peewee Herman surveys the action in the store. Stirling General Mercantile is a relatively recent addition among Stirling's retailers, but it has quickly become a very popular shopping destination.
Walking eastwards again, Elisha pointed out the Stirling Creamery, which has been producing butter and the popular gourmet butter balls since 1925. Stirling is located right in the heart of a fertile agricultural region with excellent dairy farms that supply quality ingredients for the creamery's production lines. At Jim's Special Pizza we crossed the road and continued our tour of Stirling retailers. We made a stop at Rustic Routes & Hi Country, a sophisticated interior design and furniture store that has recently added a unique Canadian-produced clothing line. From beautifully decorated dining areas to perfectly coordinated boudoirs to an enormous assortment of attractive accessories and tasteful Christmas decorations, this store was an absolute feast for the eyes. I was interested to hear that the team at Rustic Routes provides interior design services for any budget, and it does attract a large number of customers from the Toronto area.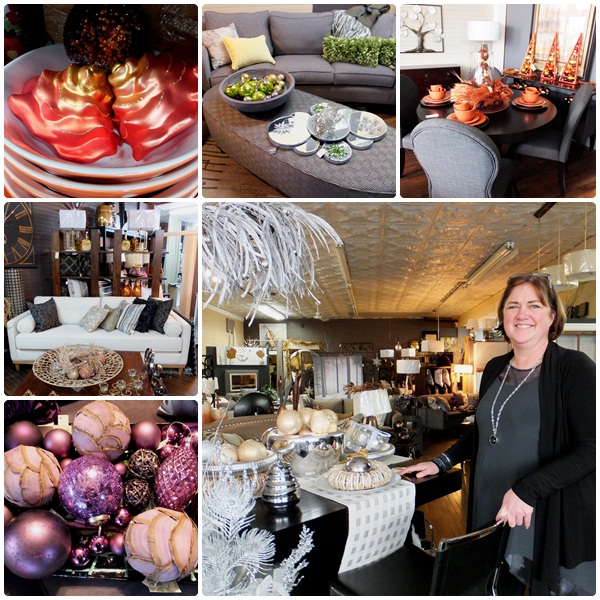 Then we crossed the street and had a look at Stirling's Covered Bridge, a historic structure in the middle of the village that is often the focal point of various special events throughout the year such as the Water Buffalo Food Festival. Among other events, the town also hosts the well-known Stirling Agricultural Fair, the Heart of Hastings Studio Tour and the Hastings County Beer Festival, all great Toronto travel getaway ideas. A giant mural called "Memorial to Our Veterans" adorns a building next to Cenotaph Park, created in 2010 by local artist Tim Webb to celebrate the contributions of all Canadian soldiers.
Back on Front Street West we popped into one more store: Bella Ever After Boutique aims to make every woman feel beautiful with its gorgeous jewellery, accessories, scarves, shoes and bags. I was very surprised to see such a sophisticated and fashionable selection of merchandise in this small country village. The entire shopping area was decked out for Christmas and provided a pleasant backdrop for a shopping excursion.
It was early afternoon now and time to have lunch so we zipped into Jim's Pizza & Restaurant which was positively packed on this Saturday. After a quick lunch featuring a Cesar salad and garlic Kaiser we were ready for the next point on our itinerary: checking in at the historic Old Carriage House Bed and Breakfast, a stately B&B right in the heart of the downtown area.
Stirling Image Gallery:
[justified_image_grid]