Finally, on May 13, 2013, my last full day in Interlaken, the weather had improved just a little bit, which was important for my plans today: an electric bicycle tour into the Lauterbrunnen Valley! I strolled from my abode at the Hotel Chalet Swiss across the Aare River through downtown Interlaken, past the famed Hotel Jungfrau-Victoria to get to the local bicycle rental company, Flying Wheels.
By 10 am, a group of 6 people was ready to embark on a bicycling tour. All of us were equipped with state-of-the art electric bicycles. Our guide Denise, who hails from California, was ready to take us on a wonderful tour of the Interlaken Valley. Company owner Frank Stein double-checked all our bicycles and wished us all the best for our bike tour.
After leaving Interlaken we cycled past the village of Zweilütschinen, one of the railway stops on the way up to the Jungfraujoch. We cycled beside the Lütschine River, past many happy cows who didn't mind us passing through their meadow. The path is relatively flat with the occasional incline, and with our e-bikes we were zipping up the hills without any problems.
We continued our two-wheeled journey into the Lauterbrunnen Valley and stopped briefly in the village of Lauterbrunnen to pick up some food in the supermarket. Further on we caught some great views of the majestic Staubbachfall Waterfall. Given its unique geological history, the Lauterbrunnen Valley has steep mountain walls that make the perfect backdrop for 72 awe-inspiring waterfalls that are often depicted on postcards.
Our next stop was in the village of Stechelberg for an outdoor picnic lunch, next to the Mürrenbachfall waterfalls. Our diligent guide Denise had brought locally made sausage, four types of Swiss cheese, two types of local bread, sweet fresh strawberries and scrumptious Swiss chocolate. During our morning ride we had expended lots of energy, so we were in need of a hearty meal. What a great outdoor adventure!
After Stechelberg we rode back north and stopped at the famous Trümmelbach waterfalls. This amazing natural wonder is composed of 10 glacier-fed waterfalls that are located inside the rocks. The water comes from the famous Eiger, Mönch and Jungfrau glaciers and brings more than 20,000 tons of debris with it every year. The narrow gorge is accessible via an elevator and covers a height of 140 metres and a large portion of it is completely hidden from daylight. More than 600 metres of pathways have been making these incredible waterfalls accessible since 1913.
On the way back from the Trümmelbach Waterfalls, the sun came out. How amazing! The Lauterbrunnen Valley turned from a beautiful stretch of scenery into a breathtakingly gorgeous fairytale landscape. Our entire group of cyclists couldn't help but stop repeatedly and snap pictures of the amazing mountain panorama. I ended up video-recording almost the entire ride back to Interlaken to capture a permanent memory of these precious moments.
Shortly before returning back to Interlaken, we stopped in the tiny yet picturesque village of Wildersvil which is located at the entrance of the Lütschine Valley. It has a beautiful little church that dates back to the 12th and 13th centuries. A historic covered wooden bridge spans the Lütschine River, and the entire village has been designated a Swiss national heritage site.
With our arrival back in Interlaken our electrically assisted bicycle tour had come to an end. I have ridden e-bicycles three times in my life, and it has always been a fabulous experience. The mountains just don't scare you any more, yet at the same time you still get great exercise. Frank and Miriam from Flying Wheels welcomed us back after a great day on our electrically assisted bicycles. All six of us had had a wonderful time….
After this exhilarating experience I was planning to rest for a few hours so I took a leisurely stroll back through the town of Interlaken. The sun was shining as I crossed the Aare River and entered Unterseen, the sister town of Interlaken. It was nice to catch a bit of a rest at my hotel after an intense day of physical exercise.
For my last evening in the Swiss mountains there was only one thing to do for me: head up into the mountains to enjoy the gorgeous views in the Swiss Alps. I drove up the Beatenberg mountain which overlooks Lake Thun and provides an absolutely phenomenal view of the high Alpine peaks of the Eiger, Mönch and Jungfrau to the south. I was looking straight at the Jungfrau mountain massif, with peaks towering over 4000 metres (over 13,000 feet!). This mountain chain towers majestically over Interlaken and Lakes Brienz and Thun, and I am sure the paragliders that were soaring above the lake felt like they were in heaven in this kind of environment.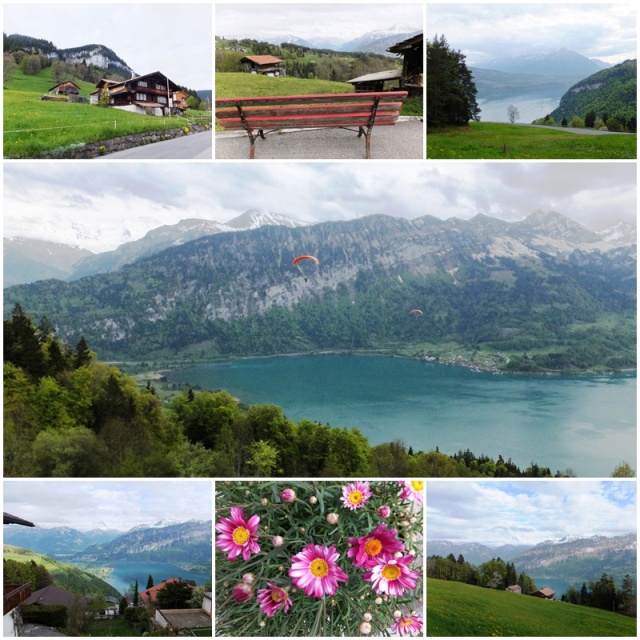 I drove around the village of Beatenberg, and headed up higher and higher on some very narrow roads in search of a restaurant to have dinner but the place I was looking for was closed. On my way back I stopped to take some photos of a historic hotel in Beatenberg. When I walked inside I found out that it is a Christian guesthouse and has a premier spot in the village, overlooking Lake Thun and the high mountains. What a view….
For my last evening in Interlaken, I decided to have dinner in the restaurant of the Hotel Chalet Swiss. Starting with a healthy salad, I followed up with a scrumptious cheese fondue, one of Switzerland's iconic dishes. Last but not least, I capped a delicious meal off with a honey and rhubarb ice cream Sunday. The view out the window of the Jungfrau and the Eiger mountains at sunset was phenomenal and I was a bit sad that I would have to leave this mountain paradise behind.
But two more days were waiting for me, and I would have a chance to explore Bern, Switzerland's capital, as well as Zurich, the country's largest city.